Ginza is located in the center of Tokyo and is famous as a shopping district where luxury brands line the streets. In Ginza, there are many buildings that have wonderful facades designed by famous architects. These may be called very big art.
Interesting thing in Ginza is the pedestrian paradise that is held on the holiday. The part of the roadway is opened to people during the pedestrian paradise. People can enjoy the beautiful facades when walking here. 
But I think that these facades are not public art but private art. These facades represent the image of a brand store as an advertisement.
It is a space like a museum or gallery where you cannot touch the work and may not be able to behave freely. I wonder if the pedestrian paradise in Ginza, surrounded by private art, can really be public. 
Pedestrian Paradise as megastructure
I'm trying to create a space where people can enjoy these facades and behave freely through public art.
The main streets have five or seven lanes, so I made the center one lane as a narrow sites. I plan to create a pedestrian paradise on this long narrow sites corresponding to the surrounding facades. By this megastructure, this wide road way can be opened to pedestrian partly and circulation can be improved horizontally.  

When I design my public art, I make some collections to refer to. These are the objects I've collected, like toys, electric components, this paper craft kit, figures, stationery, and so on.
I also collected the facades of Ginza, entrances, and the miscellanious objects that include windows, stairs, and landmarks. In order to make a variety of activities, I made the collection of possible activity that can be produced by my intervention.
These elements will be inserted into the megastructure to create the scenes. 
I put the elements of my collections abstractly or as it is. By abstracting the characteristics of Ginza and inserting something that is a little different from Ginza, the space becomes friendly and not too luxurious.
Public art must be designed with clarity and a room for people's discovery. The quality of these objects leave me and create the blank, mystery, and curiosity for being public art. 

Making scenes to facades
People will enjoy walking along this facade while using it. They can walk along the pedestrian paradise not only horizontally but also vertically by going down the stairs, sit on the step, up the ladder and so on.
I assume that the facades of Ginza are so huge and out of reach of people that they cannot enjoy these facades and pedestrian paradise as public art and public space. So I kept thee height of my project  about two stories.
In addition, these facades hide and reframe part of the existing facades in Ginza, which are sometimes not designed without consistency, especially in the lower part of the facades that is used for entrances. People may notice that these public facades change the cityscape in Ginza with small interventions.
I made some 1:200 models and ten 1:50 models to imagine the activity here and to make scenes. Referring to the collection I made  allowed me to create public facades and spaces I cannot imagine beforehand.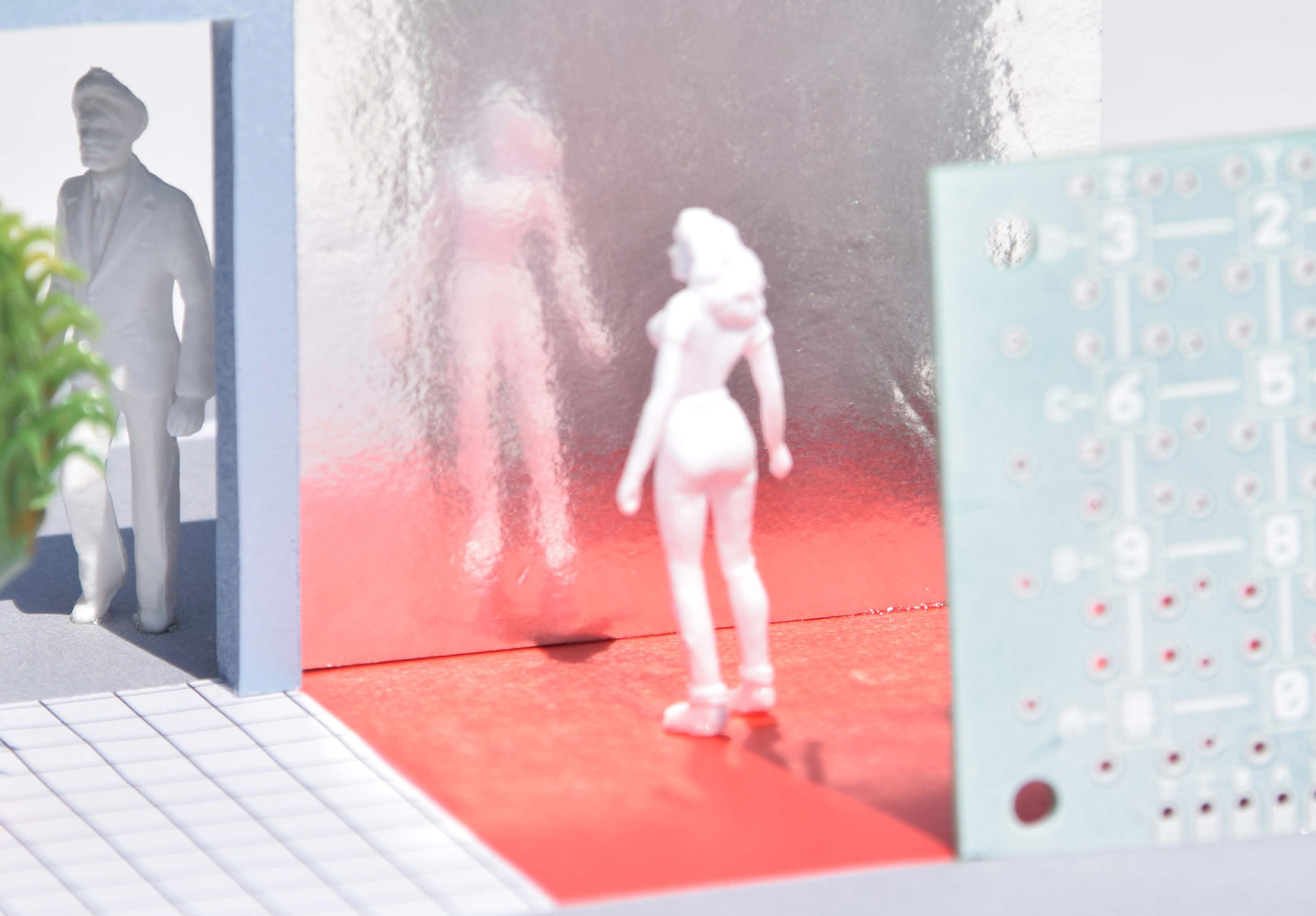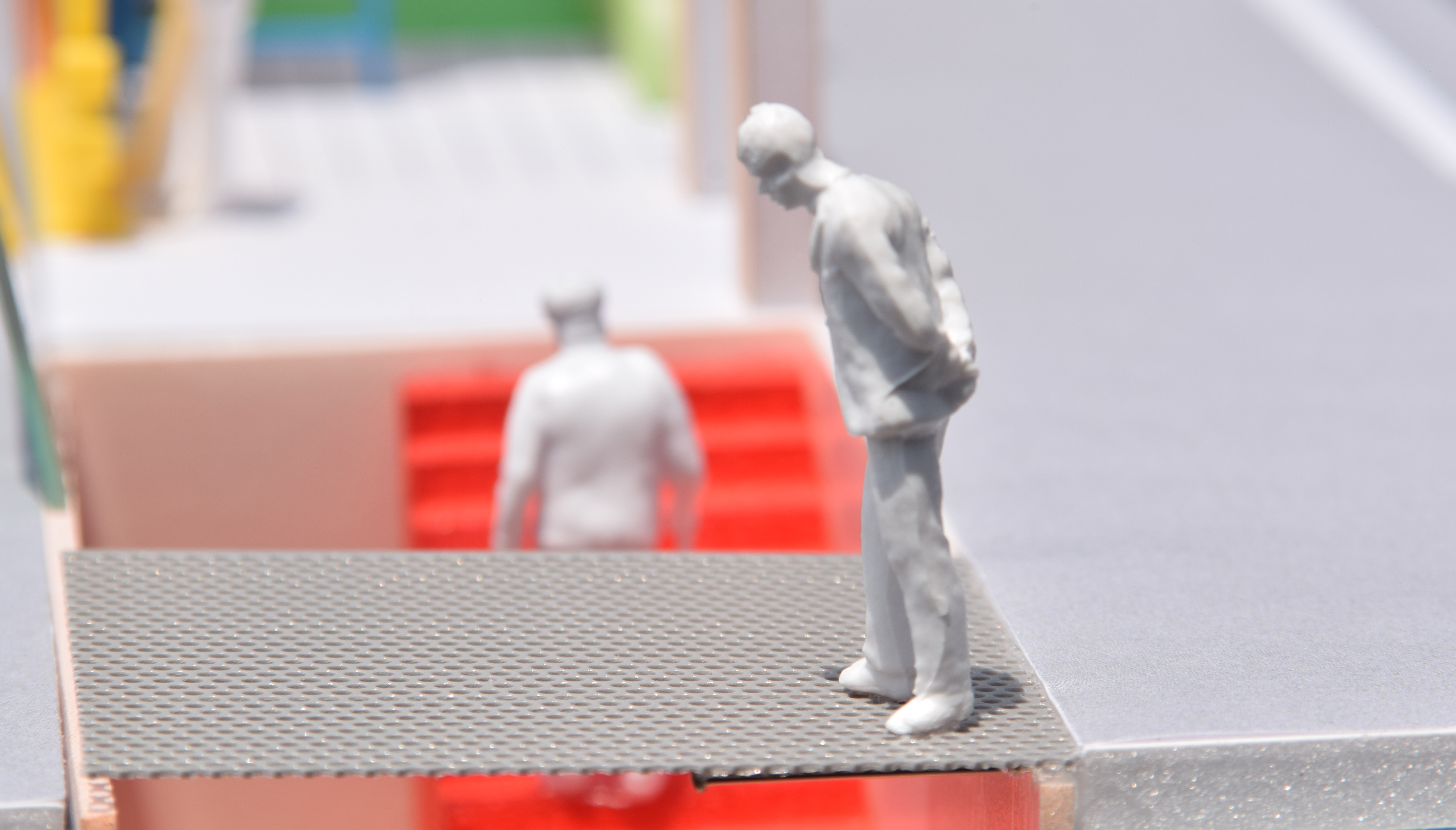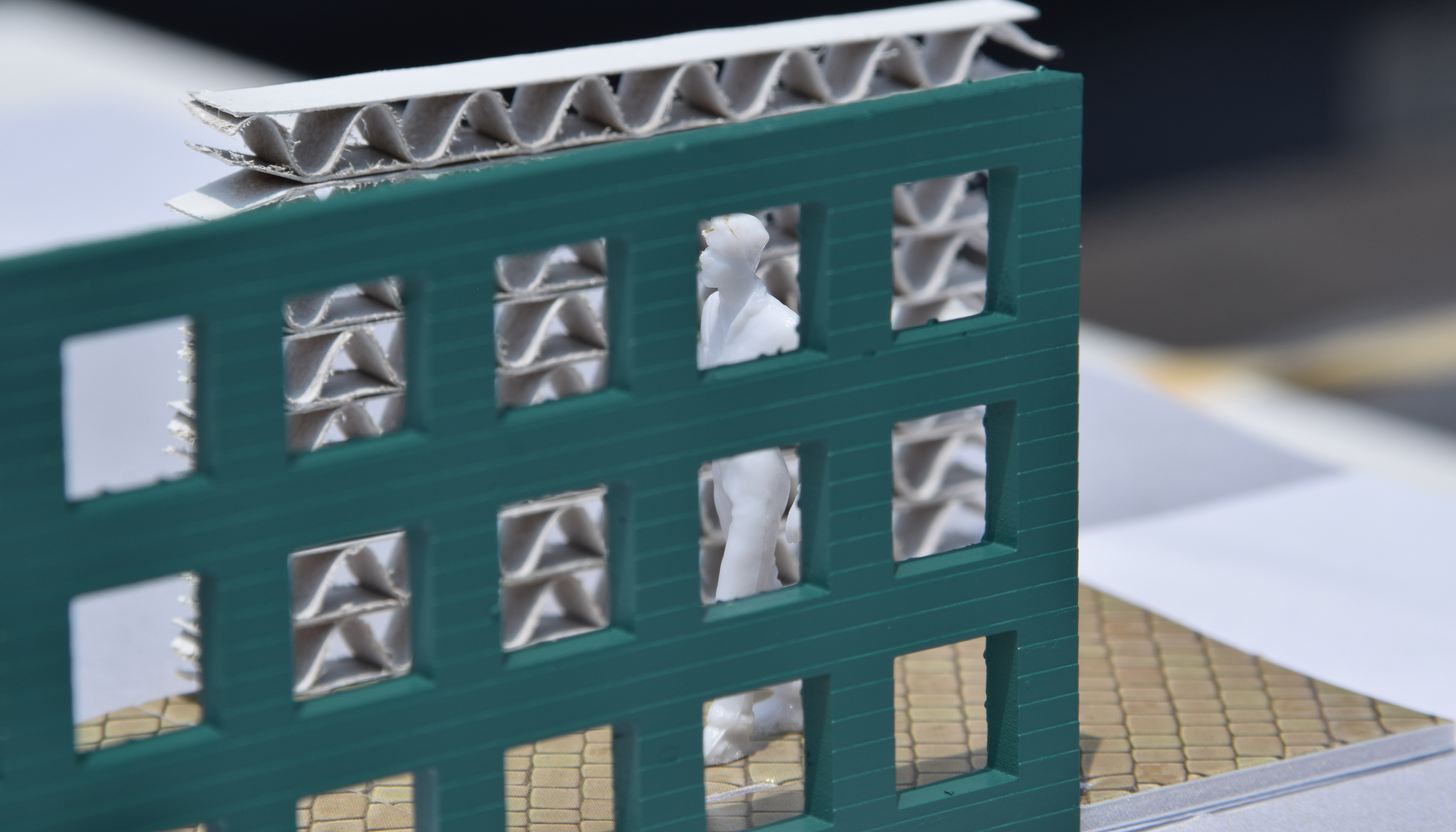 scenes turn into sequence
People will walk along these facades, enjoy coffee, take a break, stop, find a small passage, look through the window to the other side, enjoy picnic, take a picture, dance, and do many other activities.
These scenes are combined to create a new sequence.